Checklists
Often the tasks can be complicated. To forget about anything you can use checklist in the kanban card.
After clicking the Add button, the editor will be displayed: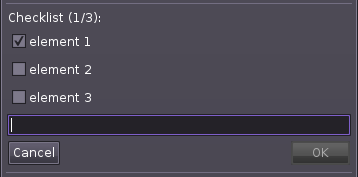 After entering the text, press enter and a new element of the checklist will be created. However, the editor will not be closed and you can enter the next element. When you finish adding elements, press Esc to close the editor, or press OK to add the item and close the editor.
Managing the elements of the checklist
Elements of the checklist can be managed by using the right-click menu: